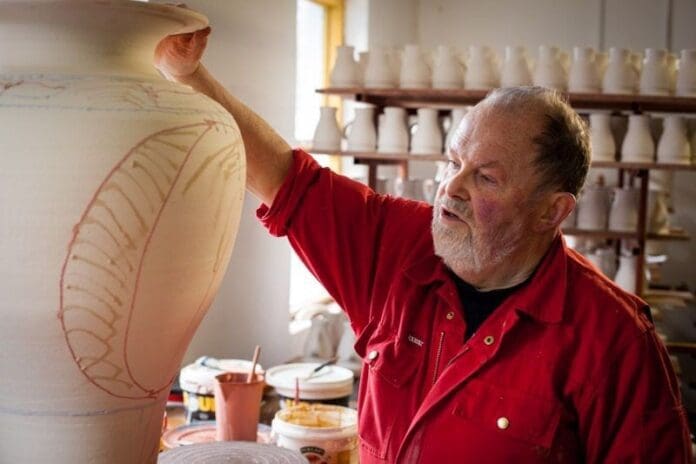 Main Picture Louis Mulcahy Pottery
Starting in Killarney Lets explore the Local Area
 Muckross Abbey
Stroll across to Muckross Abbey, an old Irish monastery that was built in the 6th century. The ruins remain surrounded by an active graveyard which allegedly host many famous characters from Irish history such as the O'Donoghue chieftains.
https://www.killarneynationalpark.ie/visit-us/muckross-abbey/
Torc Waterfall
Torc Waterfall is the tallest waterfall in Ireland and features in many Irish folklores and legends. Notably, Irish warrior Fionn MacCumhaill killed a magical boar on Torc mountain with his golden spear. Red Deer are often spotted around this area.
https://www.killarneynationalpark.ie/visit-us/torc-waterfall/
 Cardiac Hill
After taking in the breath-taking waterfall, challenge yourself to the notorious Cardiac Hill. This uphill track will test your stamina but you will be rewarded with unprecedented views.
https://killarney.ie/listing/cardiac-hill/
Jaunting Car Trip Around Killarney National Park
Hop on a jaunting car at Muckross House following your coffee break and be steered across the park by a knowledgeable jarvey. Learn the history of the area and Ireland's most famous folklore and tales. You will see the majestic Lakes of Killarney, which allegedly is the portal to the famous Tír na nÓG – Land of Youth.  Your jarvey will stop and give you plenty of opportunities to take pictures, with Ireland's highest mountain range serving as your background.
https://killarneyjauntingcars.com/
Cycle around Killarney National Park
Start your adventure at your own pace. Pick up a complimentary bike from the hotel and venture across Ireland's largest National Park. With a variety of animals and flora distinct to the area, you will see some of Europe's rarest species. There are spectacular views of the Lakes of Killarney and Ireland's largest mountain rang, the Macgillycuddy's Reeks.
https://moractivetours.com/tours/killarney-cycling-tour/
Ross Castle
Visit the 15th century castle and learn of medieval Ireland. The caste was built by O'Donoghue Mór. Legend has it that O'Donoghue still exists in a deep slumber under the waters of Lough Leane. On the first morning of May every seven years, he rises from the lake on his magnificent white horse and circles the lake. Anyone catching a glimpse of him is said to be assured of good fortune for the rest of their lives.
https://www.killarneynationalpark.ie/visit-us/ross-castle/
Sunset Kayaking
Kayak silently past rustling islands and sleepy swans. From your kayak, see the mystical 6th century abbey ruins on Innisfallen Island and hopefully glimpse some of Ireland's last native red deer. Return by kayak to Ross Castle in twilight, and possibly moonlight, as nightfall creeps over the oak and yew woods.
https://www.irishadventures.net/irish-adventure-activities-dingle-killarney/sunset-kayak-dingle-fungie-dolphin.html
Rock Climbing the Gap of Dunloe
This area of outstanding beauty is one of the very best and picturesque places for rock climbing in the whole of Ireland.  The climbing consists of old red sandstone crags and cliffs mainly of horizontal cracks with an endless selection of single pitch climbs of various grades.
https://www.kerryclimbing.ie/rock-climbing/
Gap of Dunloe Tour
A traditional bus will transport to you to Kate Kearney's Cottage, a 150-year old family run restaurant. Walk through the world-famous glacial valley the Gap of Dunloe. After completing the walk, you will be transported by boat through the three Lakes of Killarney by a guided tour who will share folklore and legends inspired by the area.
https://killarneydaytour.com/
Killarney Town
Travel to the eclectic Killarney town and spend this time at leisure. Sit in a local café or restaurant. Stroll around the various craft shops and exclusive Irish stores.
 Killarney House & Gardens
Built in the 18th century, the original 'Killarney House' was home to the Earls of Kenmare. It was known locally as 'The Mansion' and one of the finest mansions in Ireland at the time. In recent years, the mansion has undergone extensive reconstruction to restore it to its formal glory and as the gateway to Killarney National Park.
https://www.discoverireland.ie/Activities-Adventure/quill-s-woollen-market/75199 
Variety Sounds
The traditional Irish music store offers a range of instruments and music. Pick up tin whistles, accordians and bodhráns so you can play your favourite Irish tunes at home. https://killarney.ie/listing/variety-sounds/
Killarney Brewery
Tour the local Killarney Brewery and taste their fine selection of craft beers. Their beers are named after local myths and legends. Learn how they have mastered their trade while sipping on quality beer. Once the tour has concluded, you can sit in their lounge area and enjoy a woodfired oven pizza.
https://www.killarneybrewing.com
JM Reidy's
On Main Street in Killarney, Reidy's was once home to a hardware shop and agricultural supply store, followed by a grocer's, then a bakery and flour merchant. Now today, a popular music venue and pub that features everything from stout, ale and cocktails. The history is instilled throughout the entire property.
https://www.killarneybrewing.com/
 Ring of Kerry
Considered as one of the finest drives in the world, the Ring of Kerry is part of the mystical & unspoilt region of Ireland that has attracted visitors for hundreds of years and is part of the Wild Atlantic Way. Experience rugged coastlines and untouched countryside as you travel through Ireland's most picturesque region. As part of this tour, you will stop off and enjoy lunch in one of many quirky destination points.
https://ringofkerrytourism.com/ring-of-kerry-attractions.html
 Moll's Gap, Ladies' View and Leprechaun Crossing
As you begin your Ring of Kerry trip, you will pass these scenic points as you travel to Kenmare. You can call into a café by Ladies' View and take in the majestic scenery. Leprechaun Crossing serves as a great novelty picture. But during the summer months, you may see a small, green character running through the fields.
http://www.ringofkerry.co/molls-gap-ladies-view.htm
 Kenmare
Known for its beautiful scenery and as a foodie destination, Kenmare is the first town you'll encounter as you cross the mountain pass. If you're looking for adventure or a great laugh, visit Eclipse Adventure Centre and partake in mudsurfing or canyoning.
http://www.eclipseireland.com/
Sneem
As you make your way around the Ring of Kery, stop off at Blueberry Hill farm for an afternoon of creativity and craft. During the course, you will enjoy personalised creative learning in a beautiful setting and make a finished product that you take home.
http://www.blueberryhillfarm.ie/woodturning.html
Caherdaniel
Visit Derrynane House, the home of the iconic Irish political figure Daniel O'Connell (The Liberator). Take a short drive to the scenic shore and take a stroll on the sheltered, sandy Derrynane Beach.
https://www.gokerry.ie/locations/caherdaniel/
 Waterville
Embrace the Atlantic Ocean and dive into some exciting sea activities. Join marine biologists as they explore the scenery and learn about diverse biology. Snorkle along Ballinskelligs Bay or paddle board across Waterville's largest lake.
https://www.seasynergy.org/
Valentia Island
This small island is packed of activities from birdwatching to diving. There are historical sites, gardens, beaches, lighthouses, chapels and so much more on the tiny west-coast island. http://www.valentiaisland.ie/
 Cahersiveen
The town lies at the base of Beentee Mountain, on the river Fertha and overlooks Valentia Harbour. In recent years, a beautiful marina has been added. Other notable highlights are the Old Barracks, Ballycarbery Castle and Stone Forts.
http://cahersiveen.ie/
Glenbeigh
The mountain scenery here is magnificent, and the circuit of the hills from Seefin to Drung Hill is called the "Glenbeigh Horseshoe" and is part of the greater "Kerry Way", one of Kerry's finest mountain walks.
http://glenbeigh.ie/
 Killorglin
Home to the famous, and Ireland's oldest, festival Puck Fair—a celebration known for crowning a goat as King Puck. Renowned for its selection of pubs and craft shops, you will have a great opportunity to pick up some treats and have a great laugh.
http://killorglinringofkerry.com/#
Dine in Kitty O'Se's
Delicious food with a traditional Irish flare. The large windows allow you to watch Killarney come to life after dark.
http://kittyoses.ie/
Celtic Whiskey Bar
Home to the largest whiskey selection in Europe, Celtic Whiskey offers you a bespoke experience in one of Ireland's biggest exports. Ranging from the well-known Jameson Collection to rarities.
https://www.celticwhiskeybar.com/
Travel to Dingle
To really make the most of your trip, take the long route to Dingle. You will pass Tralee, famous for the Rose of Tralee Festival, which is Kerry's main shopping town. The town also hosts Kerry Museum, Rose Gardens and Blennerville Windmill.
https://tralee.ie/
Conor Pass
One of the highest mountain passes in Ireland, this route makes for an exuberating drive. There are several viewing points as you make your way up the mountain with remarkable views of the valley and the heart-shaped lakes below.
https://dingle-peninsula.ie/explore/conor-pass.html
Skellig Michael Tour
Famous for serving as the backdrop for one of the biggest blockbusters of the century- Star Wars.
Rising majestically from the sea, Skellig Michael towers 714ft. (218 metres) above sea level. On the summit of this awe-inspiring rock you will find a remarkably well preserved sixth century monastic settlement. The history of this island is truly fascinating, as well as the rare ecology present on the island.
https://skelligislands.com/
Star Wars Tour
Ireland welcomed the cast and crew of one of the biggest movies to ever be shot here. The crew and cast arrived to County Kerry to film scenes from Star Wars: "The Force Awakens" and the latest blockbuster "The Last Jedi". Your Star Wars itinerary will take you across the Dingle Peninsula where you can see the bests views of the Atlantic.
https://www.dinglesleaheadtours.com/dingle-peninsula-star-wars-tour/
Slea Head Drive
The Slea Head Drive is a circular route, forming part of the Wild Atlantic Way, beginning and ending in Dingle. Take in a large number of attractions and stunning views on the western end of the Dingle Peninsula. The route is clearly labelled by road signs throughout its length. The Slea Head Route is most enjoyable when done slowly over a number of hours, allowing time for the many interesting stops and detours along the way.
https://dingle-peninsula.ie/explore/slea-head-drive.html
Dingle Distillery Tour
Visit the distillery that created the winner of World's Best Gin 2019. The family-run distillery offers tours of their award-winning process and demonstrates what makes it so unique. Sample their original whiskey, gin and vodka and browse their shop for special gifts.
https://dingledistillery.ie/tours/
Fungi the Dolphin
Fungi, a bottlenose dolphin, has lived near the shores of Dingle for almost forty years. It is quite uncommon for dolphins to live so close to land but Fungi continues to interact playfully with swimmers, surfers, kayakers and divers in the water. Many of the Dingle locals consider Fungi an old friend.
http://www.dingledolphin.com/