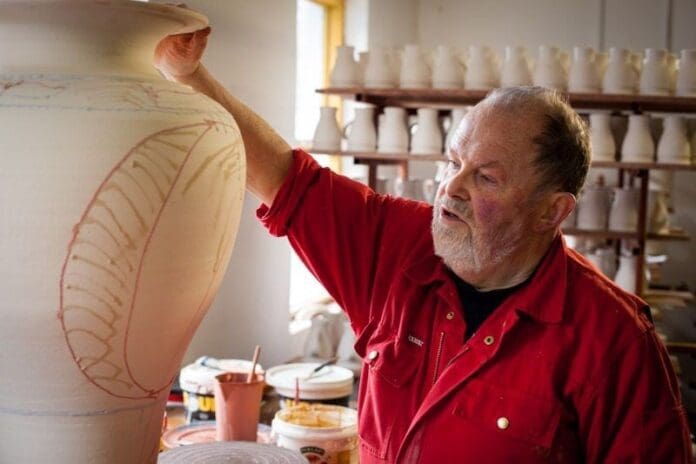 60 SECONDS WITH LOUIS MULCAHY POTTERY
Does this creative flair run in your family?
I think so. It manifests itself in different ways; musically in my father's and Lisbeth's families and in the gardening talent of my mother. All our children and grandchildren are visually and/or musically creative.
What was the driving force behind your decision to move from Dublin to Dingle in 1975
From our earliest days together my wife Lisbeth and I had a dream of moving to live in a rural setting preferably near mountains and the sea.  We achieved that aim by setting up our pottery on that narrow strip of land at the tip of the Dingle peninsula between the Atlantic and Cruach Mhárthain.
Where does the inspiration come from in your designs
It is an instinctive thing. I create all my designs on the wheel. I may have a vague idea of what I am aiming at before I sit down and start throwing. Then I go through a process of altering, refining, refining again and again. In Becket's words: Try again. Fail again. Fail better.
What's your favourite Wild Atlantic Way place to visit and why?
Besides where I live, I don't have any one favourite place. You could chuck me down at any spot along this wild western coast and I would happily survive and enjoy life. However this Dingle Peninsula with its glorious heritage and still living Irish language coupled with the dozens of interesting exponents of almost all genres of artistic endeavour has to be my favourite. Life is always interesting here.
How much do you enjoy passing on your skills to your assistants?
I don't enjoy it at all. I am not clear headed enough to be a good teacher. Worse, I have no patience. Nowadays I get others to do the teaching of skills. However we operate like the old masters of European painting, I being the studio leader, design and make the first examples of everything we produce. After that it is up to the repetition throwers and painters to make multiples of my designs. I make all the one off pieces.
Where does Louis Mulcahy escape to on holidays?
Very often to my daughter Jette and her family near Roskilde in Denmark. Sometimes to European cities and very rarely further afield.
I am contented here at home where I spend much of my free time writing and singing.
How does your work in Dingle compare to your previous lifestyle in Dublin?
I had an exciting existence in Dublin. I worked as a TV cameraman in Telefis Eireann in its early days. I enjoyed every moment of my twelve years there. But we wanted to live in the West and having driven up and down the coast we chose Dingle. It was a different kind of excitement here. Despite my years of learning the potters craft while in Dublin, I found I had to learn on the job how to work in a professional manner. Added to that we set about learning Irish because we could have done untold damage to the fragile fabric of its existence if we ran the workshop through anything other than the native tongue of most of our employees at that time. It was tough but eventually rewarding. For a time we had between sixty and seventy employees. The recession put paid to that and we are right back to between thirty and forty now. In the winter that falls to thirty or just under that.
What advice do you have for any young Craft entrepreneur today
Have a thorough knowledge and working background in your particular discipline before you start. Be prepared for hard work and initial disappointments. If it was easy everyone would be doing it
From all of the amazing designs that you have created over 40 years which piece or pieces really stand out?
I have become too old for throwing the four foot high pots. I enjoyed making them, but they require too much strength.  I love the masks and druids. The druids are big masked figures made by joining slabs of clay. They are less physically taxing than the thrown pots. But they, just like the big thrown pots, are susceptible to exploding or cracking in the kiln. So successful examples of these big pieces are the one that really excite me.