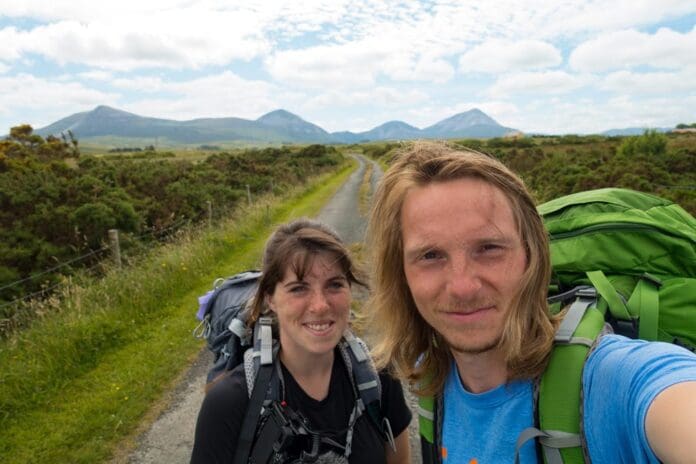 Since 2017 Ellie and Carl, known as Tough Soles, have spent 6 months of each year living in a tent and hiking their way around Ireland. To date, they've walked over 4,000km and every National Waymarked Trail.
Q 1- How does your normal day begin? 
When we're hiking, we normally set our alarm for maybe 6:30am with the goal of having our tent packed away by 7am. Of course, this doesn't go to plan every morning – be it the dawn chorus at 4am startling us awake, or a heavy day of hiking the day before causing us to press the snooze button a couple of times. Then we hit the trails!
Q 2- What are your biggest daily challenges? 
Making sure we're able to refill our water supply regularly – we've only completely run out a couple of times, but it's not something either of us want to go through again.
Q3- What do you love most about your job? 
When someone messages us and tells us that they went for a hike or explored their local area more after watching one of our videos or reading our blog.
Q 4- What do you do to relax? 
We carry kindles with us and read a lot in our downtime – or we hunt for coffee!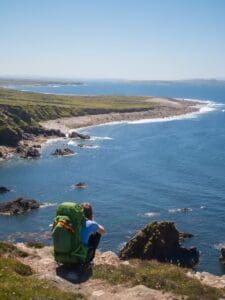 Q 5-Favourite staycation destination in Ireland and why? 
I absolutely loved hiking in Donegal, the people are incredibly friendly and there's so much to see.
Carl loved the Miner's Way & Historical Trail in Roscommon – somewhere that we had never thought of hiking in, but has amazing forest and lakeshore trails!
Q 6-Favourite holiday destination worldwide? 
Some of our best memories together are probably from hiking in Spain – we would love to go to Corsica to hike the GR20.
Q 7-Favourite Business motto? 
"Leave No Trace" – a super important ethos to have in the outdoors.
Q 8. Advice for young business entrepreneurs 
I think we're proof that there are ways to make all kinds of dreams work!