Bunratty Castle and Folk Park is undoubtedly one of Ireland's most iconic landmarks. It is hard to believe this castle which once stood in ruins, now almost 60 years on continues to welcome hundreds of thousands of visitors from all corners of the world each year.
What makes Bunratty Castle and Folk Park so charming is the unique opportunity it offers visitors to travel through time, back to an Ireland of old. From the elegance and attention to detail carefully restored within the castle walls to the charm and authenticity of the village street and farmhouses, it is easy to see why visitors are blown away by this iconic attraction.
The village characters from the schoolteacher to doctor, policeman to Bean an Ti's bring the attraction to life as they mimic what life would have been like back in the early 1900's while the folk park's resident musicians brighten up even the dullest of days as they perform traditional classics and contemporary favourites for all to enjoy as you wander around the park's stunning 26 acres.
The folk park's animals are a big hit with visitors of all ages and include various breeds of native Irish animals including Irish Wolfhounds, Irish red deer, Connemara ponies, pigs, goats and much more.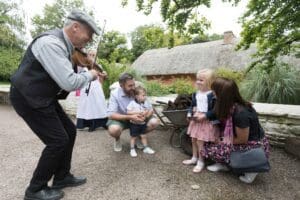 Full of imagination, magic and fun, the folk park's interactive Fairy Trail is the perfect way to spend the afternoon whether you're 2 or 102! Magical in every sense of the word, the Bunratty Fairy Trail is an enchanting experience that weaves through the upper end of Bunratty Folk Park. Wander through the enchanted woods, our walled garden and woodland trails of Bunratty Folk Park and pay a visit to the fairy university, read from the fairies magical book of spells or try on a set of fairy wings for size.
The Viking playground is a firm favourite with the young visitors complete with a wooden pirate ship, slides, swings, zip line and much more while the stunning regency walled garden, where various breeds of heritage plants thrive and grow provides a tranquil space to unwind and take in stunning views of the surrounding Clare countryside.
In recent years the attraction has undergone somewhat of a facelift with €1 million euro invested in the development of a new retail store, café and enhancements around the Park.
Since opening its doors 5 years ago, the Shannon Irish Design Store at Bunratty Castle and Folk Park has rapidly become a heavenly shopping haven for locals and visitors alike housing the best in modern Irish craft and design. While Mr. O'Regan's Café, named after the late Dr Brendan O'Regan who was deeply involved in the early development of Bunratty Castle and Folk Park, is a fitting tribute to his memory and dedication to the development of tourism and hospitality in the region. Contemporary in design, Mr O'Regans Café offers a range of savoury dishes and sweet treats and is the perfect place to catch up with friends or family, meet for a business lunch or simply relax with a good book. Its outdoor seating area overlooks some of the folk park's most idyllic farmhouses and is open to the public without having to enter the park.
For more information on Bunratty Castle and Folk Park or to book tickets visit www.bunrattycastle.ie.