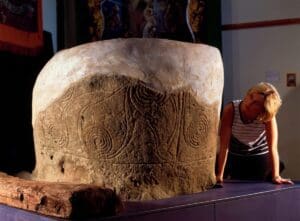 Take A Walk
Cavan has plenty of Failte Ireland looped walks to enjoy.  Try gently rolling drumlins  and upland blanket bogs. Enjoy the tranquility of forest walks in Kingscourt, Cavan, Virginia and Bailieborough.Visit the Marble Arch Caves Geopark – accredited by UNESCO – spanning the uplands of Cavan and Fermanagh, neolithic Ireland reveals itself quietly as you stroll along .Or walk the Cavan Way from Dowra to Blacklion past the Shannon Pot – the source of the Shannon – a place of rich folklore .Cavan Walking Festival also takes place every May with guided walks taking place over a week throughout the county.
Cavan County Museum
Visit Cavan County Museum to discover the unique heritage and culture of County Cavan. Located in Ballyjamesduff, its galleries feature fascinating artefacts dating from the Stone Age right up to the 20th century, with material spanning over 6,000 years of occupation in Cavan. The Killycluggin Stone, the Ralaghan figure and the three-faced Corleck Head are three of its star exhibits and some of the most recognisable examples of Celtic spirituality in the country. The Cavan County Museum is also home to the World War One Trench Experience and the largest outdoor replica trench open to the public in Ireland and the UK.
Cavan Cathedral
In 1938 construction of Cavan cathedral began and was completed in 1942 under Bishop Patrick Lyons. The plan layout is quite unorthodox for Irish churches. The nave is lined with columns which extend down both sides, and unusually turn to form what could appear to be the beginning of a rood screen. The church is beautifully built in a white granite. Externally the cathedral is dominated by a classical portico surmounted by a tower. The cathedral was dedicated to Saint Patrick and Saint Felim in 1942. Six stained glass windows from the studios of Harry Clarke were added to the cathedral in 1994.