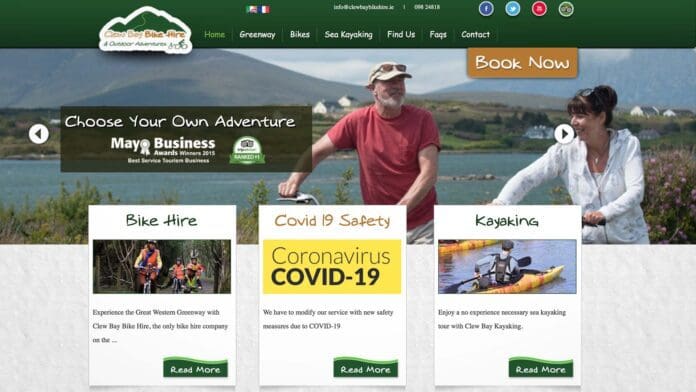 Clew Bay bike hire is based in Distillery Rd, Knockranny, Westport, Co. Mayo and Travis and the team can be contacted on 98 24818 or info@clewbaybikehire.ie
Apart from having a great team in place, Travis goes the extra mile to ensure that you get the most out of your hire with exceptional advice and guidance
* #1 on Tripadvisor 2011, 2012, 2013, 2014, 2015, 2016, 2017 and 2018
* Mayo Business Award Winners 'Best Tourism Service Provider 2015' and 'Best Customer Service 2016'
* The first Bike Hire provider for the Great Western Greenway. We opened our doors in March 2010 and has continually set the standards that others can only try to emulate!
* 4 convenient locations to serve you – Westport, Newport, Mulranny and Achill Sound – allowing you to decide on an itinerary that suits you!
* Our shuttle service allows you to cycle only one way, utilizing wind direction to assist you where possible!  Also allows you to cycle as much or as little as you wish! Why make it hard when we can make it easy for you!
* Premium brand Giant or Kona adult hybrid bikes
* Kids 20", 24", trailers and tag-a-longs available
* Electric bikes available. Take the 'Sting' out of your cycle!
* 4 Package options (Bronze, Silver, Gold or Platinum) each catered to suit your individual cycling needs (more information here: http://www.clewbaybikehire.ie/bikes/bike-packages/)
* Free Road Side Assistance in the unlikely event of punctures or mechanical problems. We are never too far away if you need us!
* Friendly knowledgeable staff only too happy to help out in any way possible!