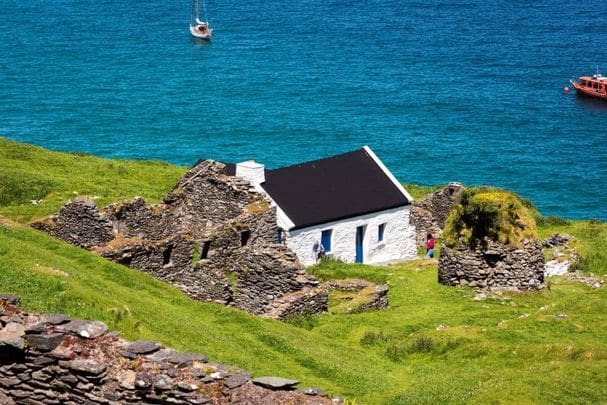 courtesy of OntheQT
Ireland has amazing places to explore and extremely unique gems to stay that will take your breath away. We have decided to share our weekly staycation finds with you over the next few months to give you some inspiration ahead of the summer season. We will pick out the most unique places and accommodation EVERY SINGLE WEEK. Spots you would never expect to find in Ireland… OnTheQT Style! Here is 10 Staycation Finds – TAKE 1!
1) The West Cork Treehouse
This eco-friendly rental is located in the beautiful Skibbereen in West Cork. Nestled in the branches of spruce pines you'll find this luxurious gem waiting for you. This magical creation allows you to escape the world and hide out in the treetops of a romantic treehouse at Grove House.
As you walk out through the French doors, you will be met by a large deck overlooking the West Cork countryside. And you can enjoy this view in your own, private two-person Canadian hot-tub. What could be better than being up in the trees at one with nature? For
2) Finn Lough Bubble Domes
This gem is the perfect romantic break located in Fermanagh in Northern Ireland. It has been on my bucket list for a long time. Imagine gazing up at the stars, along with a panoramic view of the forest and night sky as your snuggled up in bed at night.
This bubble gem includes a luxury bedroom, along with a heavenly free-standing stone bath that overlooks the woodland, Immerse yourself in nature and escape the hustle and bustle of everyday life. For more information3) Folan's Cottage
This is the dream staycation location for any family this summer. Located in beautiful Connemara, Folan's Cottage is a beautiful architecturally designed holiday home that was rebuilt in 2010 from two ruined stone cottages and located only a few meters from a quiet sandy beach, with views of the Twelve Bens and across the ocean to the Arann Islands. If you are looking for peace and quiet, you will get it here, with just rabbits, sheep and Connemara ponies to keep you company.
4) Tubbrid Castle, Kilkenny
This fantastic gem was built in the 15th century and was uninhabited for the past hundred years. It has now been restored to a new life and allows you to stay in a castle. What a fantastic experience. Located just 20 minutes outside of Kilkenny lies Tubbrid Castle. As you drive down country lanes, you will see the castle with rolling mountains as the backdrop. A unique castle stay with a touch of luxury.
5) Houseboat
If you want something a little unique in Galway city, this gem is for you. A beautiful getaway located on the banks of Lough Atalia, a tidal inlet off Galway Bay in Galway city. This beautiful houseboat was built in 1933 and have been renovated over the past few years. This is a luxurious and historical Dutch barge that offers very spacious, unique and comfortable accommodation. It is just a 15 minutes walk to Eyre Square and could be the unique romantic getaway you are searching for.
Inside the boat you will find a large kitchen with granite counter-tops and a breakfast bar, along with a large open-plan space. Additionally, you will find a large bathroom and a fabulous double bed bedroom. It even has a wood/turf burning stove and a wicker basket of turf is supplied for when the evenings get chilly and you can relax in front of a real fire. Sounds idyllic.
6) Viking House
This is a one of a kind gem located in the Irish National Heritage Park in Wexford. It gives you the chance to stay in a Viking House which was common in Ireland 1000 years ago. The house itself is located on the River Slaney. It has wattle walls, a thatched roof and central health. It was constructed with authentic materials that our ancestors would have used, for example oak and ash trees in the roof, a reed thatch on the roof and stone on the walls.
You can go all out cause this AirBnB gem provides authentic costumes too and allows you to cook on an open fire. A gem that allows you to get the full experience. The house is located in the Irish National Heritage Park and you have full access to the park.
7) Wicklow Head Lighthouse
This gem is perfect for someone who wants to escape from the hustle and bustle of life and gain some peace. Experience a stay in an 18th-century lighthouse. Take in the beautiful surroundings of the Irish sea and countryside. The lighthouse has 6 octagonal rooms which are careful constructed in the void that existed within the tower when it was first taken on by Irish Landmark.
You will get to experience that traditional lighthouse with its arched windows set in walls which are a meter or thicker. Enjoy some seal spotting along the coast, explore a secret stony beach with an old limekiln and much more. It may be 109 steps to the kitchen but it will be a truly memorable and unique experience.
8) Chléire Haven
This is a gem nestled away in South West Cork. Cape Clear island, (Oileán Chléire) is the southernmost inhabited part of Ireland. It has a population of just over 100 people, and is an official Gaeltacht area. Chléire Haven campsite overlooks the glittering bay which is truly spectacular. You can simply get the ferry from Baltimore which takes about 45 minutes and the island awaits you.
Enjoy the magical island with one of their Mongolian yurts as your accommodation. Cosy, comfortable and warm which allows for glamping at its best. Just look at that view – what more could you want?
9) The Birdbox
I think this gem has to be on of the most unique places to stay in Ireland. The Birdbox in Donegal. The Birdbox is a cosy, handcrafted treehouse and it is nestled in the branches of beautiful mature oak and scots pine trees. As you look out the front you have spectacular views towards Glenveagh National Park. If you are looking for a unique and fun, yet peaceful getaway, this is the gem for you.
The layout is pretty cool. Measuring approximately 3.5 x 2.3 metres on the ground floor. It then has a 30 metre walk along a stepped wooden walkway as you go through mature trees to the decking area of the treehouse and the last five meters is accessed by a rope bridge.
10) Ardmore Glamping Pods
Located in the seaside village of Ardmore Co. Waterford is a little hidden accommodation gem called Ardmore Glamping Pods. Six luxury glamping pods which are the perfect retreat for a couple or even a family as the pods can cater for up to 5 people. Situated on the grounds of the extremely popular Ardmore Open Farm and Mini Zoo so your neighbours are the meerkats, lemurs and even a lynx cat now.
This gem is surrounded by stunning sea views and overlooks the breathtaking Whiting Bay. Ardmore is one of my favourite places in the world and the beaches nearby the Ardmore Glamping Pods are some of the best in the world from Whiting Bay, Goats Island, Ardmore beach, the Curragh beach and my ultimate favourite Ballyquin Beach. You also have the picturesque Cliff Walk nearby to enjoy during your visit. The perfect spot for a breakaway by the seaside.