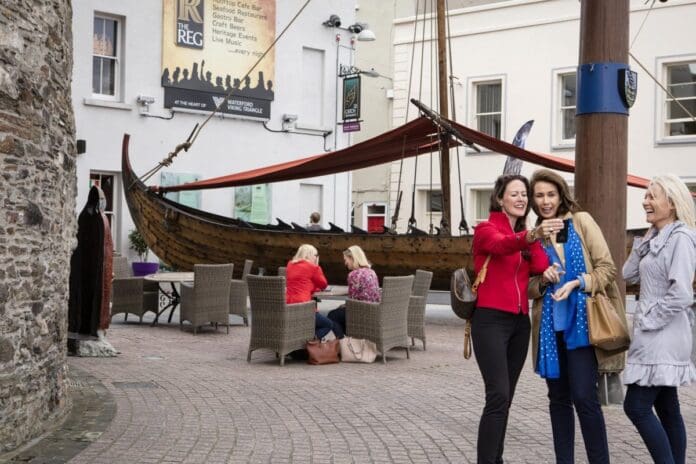 48 Hours In Waterford
An enchanting combination of history, a thriving foodie scene and a buzzing festival line-up – Waterford is not to be missed
It's Ireland's oldest city, and despite boasting a history of over 1,000 years, Waterford just keeps coming out with more surprises. Ancient Viking creations, Norman constructs and glittering expanses of immaculately crafted crystal – spend a weekend in this glittering gem in Ireland's Ancient East, and discover the not-so-secret treasures that make it truly special.
The crystal city
At the heart and soul of Waterford is the world-renowned Waterford Crystal. Since 1783, the factory has been crafting elegant crystal creations, and a host of craftsmen, glass blowers, cutters and engravers still work in Waterford to this day. Every day, two tons of molten crystal are shaped into the impossible and beautiful objects that give Waterford crystal its reputation for artistry around the globe.
Waterford's treasures
At Waterford's centre, the massive stone fortress of Reginald's Tower, named for Waterford's founder Ragnall, hosts beautifully wrought ancient metalwork, including the magnificent Kite Brooch, preserved through the ages. Climb to the top via the narrow spiral staircase, and look out over Waterford, imagining it as it must have appeared in the 13th century.
Close by, the Medieval Museum displays its own treasures, including the Great Charter Roll of 1373, which depicts Waterford as it was in the medieval ages, and the Cloth-of-Gold vestment, woven in Florence, embroidered in Bruges, and finding a home in Waterford. And finally, the Bishop's Palace is an elegant townhouse where you can discover another age of Waterford, the Georgian period.
Festival fun
When you've taken in your fair share of history, turn to the present – every August, Waterford hosts the Spraoi festival, named after the Irish word for fun. Live music and street performers light up the streets with a carnival atmosphere – big bands come in from all over the world, and floats take to the roads with explosions of colour!
And if you're looking for an altogether more relaxed experience, Waterford has a burgeoning food scene – their annual food festival gives you a delicious slice of Ireland's "sunny southeast". The homegrown delicacy is the blaa, a floury white roll that practically melts in the mouth. Top it with some of the homemade jams, spreads and cheeses you can pickup in the weekly farmer's market (every Saturday on Jenkin's Lane) and head to the quayside to enjoy.
Ireland.com