PRCA award-winning consultant and mum of two, Frankie B. Francis is the founder and Managing Director of FBF Communications, a full-service communications agency bringing a renewed hands-on consultancy approach to the world of PR. With client books bursting across a range of industries, FBF Communications provides a uniquely professional service that promises senior level management to all clients, at all times.
Q 1- How does your normal day begin? 
I get up and ready before the kids wake so that I can dedicate the time we have together in the mornings to enjoying breakfast and getting them ready for school and creche, whilst also catching up on the main news agendas of the day. I then hit the office and prep the whiteboard with the day's workload and deadlines.
Q 2- What are your biggest daily challenges? 
That there are not enough hours in the day. From a busy work agenda to being a hands-on parent, it's a daily challenge to set boundaries and prioritise the best use of my time.
Q3- What do you love most about your job? 
Its diversity. From creating and delivering PR campaigns and communications strategies, to content creation and copywriting, social campaigns, influencer engagement programmes and much more, no hour is ever the same and it keeps you on your toes.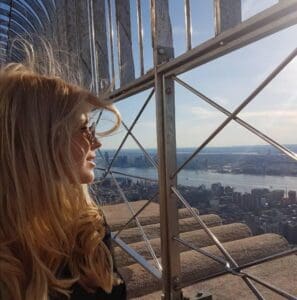 Q 4- What do you do to relax? 
Mainly by catching up on a gripping Netflix series or bringing the dog for a walk whilst listening to a podcast. A liquid brunch date with the girls is also good for the soul.
Q 5-Favourite staycation destination in Ireland and why? 
Pre-kids we spent a lot of our annual leave allocation travelling the world which meant we neglected most of what Ireland has to offer. Recently and thanks to the pandemic, we've spent time in Killarney at the gorgeous Castlerosse Park Resort which ticks all the boxes and the views are spectacular!
Q 6-Favourite holiday destination worldwide? 
There are too many to choose from. Berlin, Budapest and New York are my favourite city hotspots, we spent many a student summer in The Hamptons. Mexico was our perfect honeymoon destination and Sorrento is next up on my wish list.
Q 7-Favourite Business motto? 
"If they trust you, they'll do business with you" and I'm thankful all our business to date has come through client referrals.  Our clients not only trust us to do the job, but they also trust us with their stories and journeys and that's as much as we can ask for.
Q 8. Advice for young business entrepreneurs 
 Make sure you love what you are doing and be prepared to always learn more. You'll never know it all so surround yourself with people who can support you on the journey. You'll have your spark and they'll help you to shine.