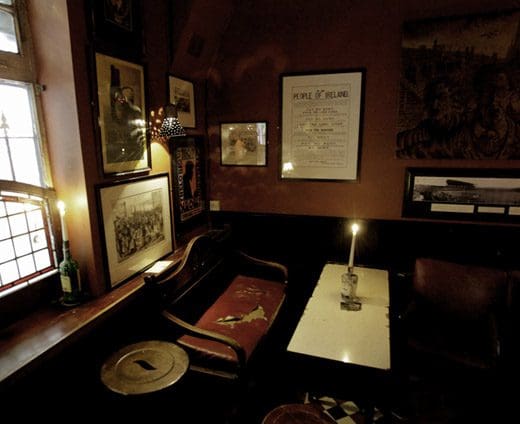 Morning
Breakfast at the Crawford Art Gallery Café – serving from 8.30am in this charming, Georgian, dining room in the heart of the city. Recently named in the McKenna Guides as one of the 100 Best Restaurants in Ireland, this relaxed, airy space, features artwork from the gallery and touches such as an Elizabethan granite fire-place, salvaged from an old great house. You can feel the patina of centuries in its very tactile, stone-carved hunting scenes. After breakfast, explore the gallery's intriguing mix of classical, period and contemporary art
Follow the Cork Vintage Map (which you will pick up in most cafes, markets and hotels). It's got the best of vintage and vintage-inspired clothing, accessories, flea markets, vinyl shops, antiquarian books and gifts, plus locally-based stylists who can help you achieve that vintage look.
Afternoon
A walk in The Quad at UCC –walk around to the university's old "Quad", the stone-faced, ivy-clad central quadrangle built between 1847 and 1849 (at the height of the Great Famine). The style is described as Perpendicular Gothic, the feel is ivy-league and you will find a very peaceful space to pause amidst the energetic life of our college.
Return to the city centre – Go via St Fin Barre's Cathedral – the great neo-Gothic Anglican church situated on a site of Christian worship since the 9th century. You may catch a choir at practice or the epic pipe organ at play. Look out for the large gilded angel on the roof of the eastern end. An old city legend has it that when the Golden Angel blows his trumpet, the world will come to an end.
Evening
Early Evening Glass of Wine and Tapas – Drop into Meade's Wine Bar on Oliver Plunkett Street, cosy, understated Georgian rooms with a great wine list and small bites with locally sourced ingredients. Or, you could go nearby to Orso, offering vibrant, North African influenced dishes and salads in a small space. Orso is a firm favourite with the locals, so you may have a short wait for a table. Just put your name and number on the list and go next door to Arthur Mayne's Pharmacy. It looks just like an old Chemist or Drugstore, the surprise comes when you push open the door.
A Pint & Some Trad – Wind down your day with a pint of the local stout (Beamish or Murphy's) in a nearby pub such the famous traditional Irish music bar, Sin E on Coburg Street or An Spailpín Fánach, which has traditional music seven nights a week.
Later
Something Different In A Pub? – If you like a pint in a setting that's lively and quirky – The Mutton Lane Inn, hidden down a tiny lane off Patrick Street, is well worth a visit.
Once the quiet haunt of farmers and carters delivering produce to the English market, it's now a friendly, busy pub with great local craft beers and eclectic crowds and sounds. The Mutton can be busy (especially at the weekends) and little hard to locate, so just ask a local. They will be happy to direct you.