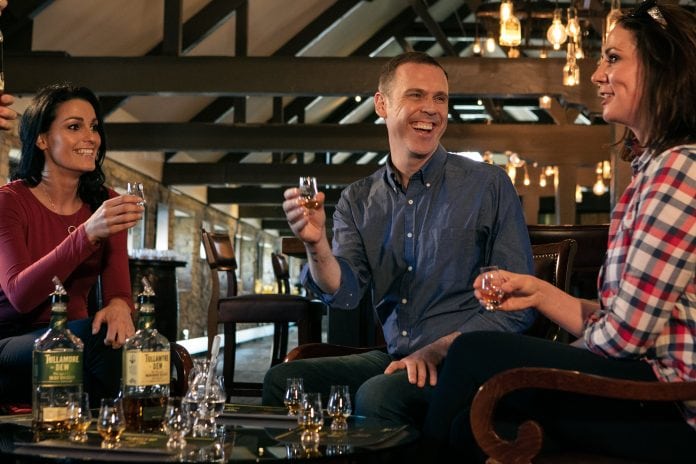 Tullamore Dew Old Bonded Warehouse
You don't have to be a whiskey drinker to enjoy a trip to the Tullamore D.E.W. Old Bonded Warehouse. Situated on the banks of the Grand Canal, the distillery's original Bonded Warehouse was the last place the whiskey would rest; the final leg on its journey before being shipped up the canal for distribution around the world. But where the casks moved on, the history remained. Join Tullamore D.E.W. on a journey of discovery through almost two centuries of the distillery's history and enjoy a tipple of the legendary Irish whiskey itself.
Birr Vintage Week & Arts Festival, 3rd-12th August 2018.
Turn back time in the beautiful Georgian heritage town of Birr and revel in its contemporary culture with a range of vintage and modern events for all ages during Birr Vintage Week & Arts Festival which this year celebrates it's 50th Anniversary. The all-inclusive programme includes the fantastic opening parade with its display of vintage, equestrian and community entries; artisan and craft market; the Ormand Flying Club's Annual Fly-In and display; busking competition; free children's events; antiques and fine art fair; live music; sporting and literary events; nightly pub entertainment; and a spectacular fireworks display which will illuminate the skies above the town.
Ballinahown Craft Village
Located in the picturesque village of Ballinahown, a "Tidy Towns Award" winning village on the Offaly / Westmeath border is the Ballinahown Craft Village, a place to feast your eyes on Irish craft and design from artists, craftsman, and sculptors. In the Celtic Roots Studio you will experience many aspects of craft. The bogwood sculptures sit alongside general crafts in this beautiful old house. The local bogwood used to create sculptures can be as old as 5000 years. The bogwood was brought to the surface of the bog during peat production. This indigenous wood is collected and dried for two year before any artifacts are made by the artists in the Studio.
www.celtic-roots.com
Tree House Adventure, Birr Castle
Kids will love the epic Treehouse Adventure Area in Birr Castle. The playground features Ireland's largest treehouse along with a bouncy pillow, sandpits and a hobbit hut. Little architects can build their very own castles in sandy play areas while the more adventurous are free to cross treetop rope bridges and secret tunnels. For inquisitive family members, take a step back in time and visit the historic Science Centre, then go for a stroll around our stunning gardens. That's where you'll find the Great Telescope – arguably the largest historic scientific instrument still working today. You'll find something for all the family to enjoy.
www.birrcastle.com