Muckross House https://www.muckross-house.ie/
At Muckross House, you'll get a glimpse into luxurious 18th Century life at this fantastic, manicured throwback. This is a rural estate that's home to horse-pulled jaunting cars, fantastic gardens, lake views and craft stores. The garden restaurant is open for daily takeaway 10am-4pm.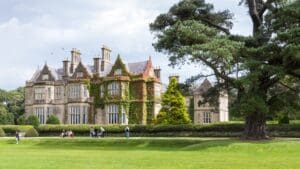 Skellig Michael. 
A jagged, difficult-to-access island off the Kerry shoreline, Skellig Michael was once an isolated hermitage and is now almost as well-known for its core role in the Star Wars movies. To get there you'll need good summer weather and your climbing legs but toiling amid the puffins is well worth it, for the rustic housing and glorious views.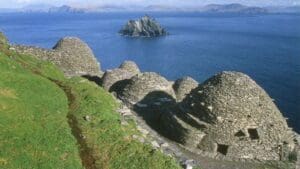 Fungie the dolphin 
Resident in the harbour of gorgeous Dingle Bay, Fungie has long been Ireland's most famous non-human and he plays to the crowds. Heading out on a boat to meet, or better still, to swim with this playful mammal, is a Kerry essential. If Fungie is not in a playful mood, if you don't find him, you don't pay. Fungie caused some alarm when he vanished suddenly at the end of 2020 but according to a local marine wildlife group he has once again been spotted off the coast.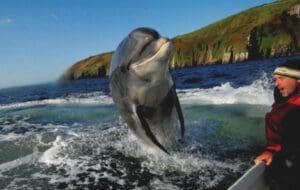 Carrauntoohil
The highest peak of the McGillicuddy Reeks mountain range, Carrauntoohil is a challenging climb for intermediate-level hikers. It rises to just over 1,000 metres via the dramatic, slippery 'Devil's Ladder'. At its peak, you'll find a huge iron cross and spectacular views across the Kerry countryside. A selfie-nut's dream location.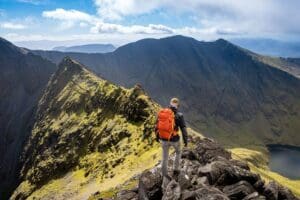 The Ring of Kerry
Not so much a single site as an entire circuit of rugged, rural beauty, this is the one tour you must do while in Kerry. The 'ring' takes you around the Iveragh Peninsula, past a host of gorgeous Atlantic views, quaint towns and tiny, enticing beaches. Around every corner is a photo opportunity, so go under your own steam, if possible.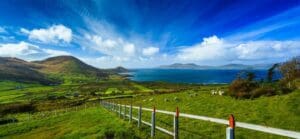 The Blasket Islands
The Islands once had a thriving Irish-speaking population but were evacuated to the mainland due to harsh Atlantic conditions in the 1950s. Jokingly called 'next parish America', this spot is as 'battered west coast' as you can hope to see. There's a stunning beauty in that.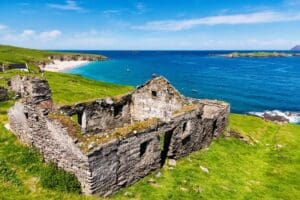 The Gap of Dunloe
A fantastic drive into the Kerry Hills, the Gap of Dunloe is a narrow mountain pass through the McGillicuddy Reeks, a tough trail by car, but easily passable in the popular horse-pulled jaunting cars that are abundant in Killarney National Park. It's popular to hike or bike the route, with Kate Kearney's Cottage – a 150-year-old pubcraft shop – a popular launching spot.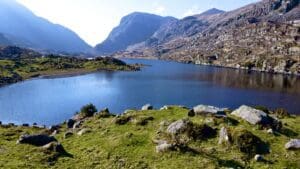 Kerry Cliffs, Portmagee
The Cliffs of Moher in Co. Clare may be Ireland's most famous cliffs but Portmagee's cliffs also offer incredible walks, dramatic drops and views out to Skellig Michael. Why are they less popular than Moher, yet 85 metres higher? Because buses can't get here. In other words, they're a lesser-known treat. However, to be avoided in strong winds.