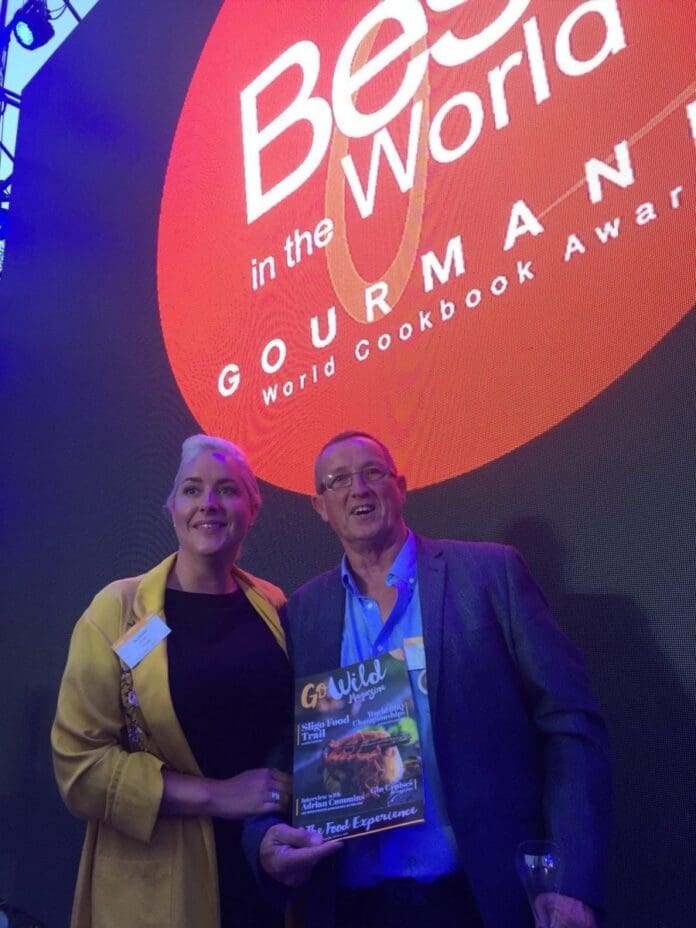 PRESS RELEASE
Go Wild magazine fly the Irish flag with a "Best in Print Publishing" award at the  Gourmand World food finals in China
Ireland's Go Wild Magazine has been named Best In the World for Print Magazine Distribution at the   finals of the Gourmand World Cookbook Awards in China last weekend. Go Wild MD, Robert Power, says they are delighted with the win and are thrilled to have had the chance to represent Ireland..
The team arrived back from Yantai in the Shangdong Province of China on Wednesday this week having spent 4 days attending the awards.  The Gourmand World Awards are run over 4 days and cater for up to 1,200 delegates. The event includes a world food forum, as well as a range of Food awards and cultural tours.
"This is a major achievement for a company as young as ours," says Bobby Power. "We're really proud to have the honour of receiving the award and also having Darina Allen carrying the Irish flag for our team at this world gathering of Foodies, after just three years in operation."
Go Wild Magazines is headed up by well-known media person Bobby Power and his team publish high quality Tourism and Food Magazine for Ireland's Wild Atlantic Way, Ireland's Ancient East and Irelands Lakelands regions. They have grown from one magazine title in 2015 to seven niche tourism and food titles today.
"We realise we are seriously bucking the trend by growing our magazines at a time when print publications are in decline.
I think it is a testament to the quality of our magazines and the interest in Ireland's Wild Atlantic Way and Ireland's Ancient East that we have managed to achieve this growth."
The Go Wild Food Experience title which feature Signature Chefs and Restaurants on Ireland's Wild Atlantic Way was one of five finalists in the catagory with the others coming from Spain, France , Romania, Italy and China itself
"Having the opportunity to present Ireland's Wild Atlantic Way food, to a world audience is something that we could only have dreamt about three years ago," says Robert Power.
For further information for media enquiries please email/phone…….bobby@gowildmagazine.com 00353874467007
Pictured in Yantai are Bobby & Cleo Power, Bobby and Award winner for her new book Darina Allen
NOTES TO EDITORS
All Go Wild titles can be viewed and downloaded for free on www.issuu.com/gowildmagazine
www.cookbookfair.com/
The Gourmand World Cookbook Awards were founded in 1995 by Edouard Cointreau. Every year, they honour the best food and wine books, printed or digital, as well as food television.
Books from 205 countries participate in these prestigious awards, the only international competition of the sector. It is free, and open to all languages.
Every year, Gourmand gives the awards in a very special location for gastronomy. The Ceremony is always an opportunity to meet every important person in the world of food and books: hundreds of publishers, authors, chefs and journalists take part in these events.
The Gourmand Awards have been compared to the "Oscars" for the Food industry. They are inspired by the Olympic Games and their spirit.
With the huge network created around the Gourmand Awards, Edouard Cointreau decided to launch the Paris Cookbook Fair in 2010. After three years at Le Centquatre, the fair moved to the Carrousel du Louvre in 2013, and Beijing in 2014. Since then, the World Cookbook Fair takes place at the Frankfurt Book Fair.