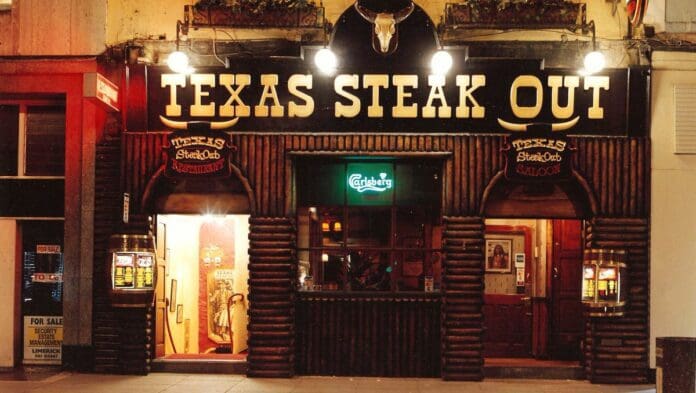 GOOD HONEST HEARTY FOOD
Enjoy a sneak peek with our latest video
This sums up what the Texas Steakout is about. From the very start, we wanted to make the Restaurant homely and comfortable so the use of more recipes from your Grandmother's kitchen was a better option than food that people at that time were unfamiliar with.
The Texas Steakout Restaurant was established almost 29 years ago and since its opening has remained one of the top favourites on the Limerick dining scene. Located in the very heart of town, the "Steakout" is a meeting place for people from all walks of life.
At the "Steakout" we cater for all varied tastes… not just for meat lovers. We also have an excellent choice of Chicken, Vegetarian and Fish dishes. And then there is our Mexican Menu – the likes of which you would have to travel to Central America to get anything better!
WHAT MAKES THE STEAKOUT POPULAR?
Well it has 3 vital ingredients: FOOD/ATMOSPHERE/SERVICE
First and foremost is our food quality. This is the most important quality we posess and are blessed with top quality, hard-working loyal Chefs who achieve this every working day. They take extreme pride in their work and have a very high work ethic and have a great working relationship with each other. In fact, 4 of our current Chefs have been with us since the day the Steakout opened its doors. They are older and wiser now but equally as talented and energetic. We only ever use fresh ingredients and all our products are IRISH and we support local suppliers and have a great working relationship with all of them.
The Chefs in turn drive the Waiting Staff to be as efficient as possible, as they want to ensure that the food they have prepared arrives to the Customer hot and well presented. Again we are very lucky to attract energetic, hard-working Staff with good personalities. It is extremely important for the Staff to fully engage with the Customers and enjoy their work and get on well with their fellow employees. The working environment in the Steakout is efficient but "light-hearted". A joke and banter is always encouraged between all departments including the Supervisors and Managers. The happy staff definitely makes for a happier Customer.
To sum up: the Steakout started out as a family-run Restaurant and remains so to this day. The only difference is, that the family has expanded and now counts every member of the Steakout team as FAMILY.