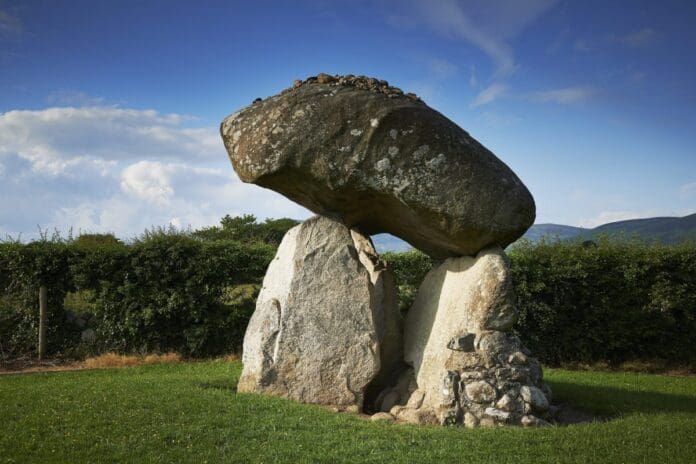 THINGS TO SEE AND DO IN LOUTH
Monasterboice
Crowing ravens lend an eerie atmosphere to Monasterboice, an intriguing monastic site down a leafy lane in sweeping farmland, which contains a cemetery, two ancient church ruins, one of the finest and tallest round towers in Ireland plus two of the most important high crosses.
Come early or late in the day to avoid the crowds. It's just off the M1 motorway, about 8km north of Drogheda.
Old Mellifont Abbey
In its Anglo-Norman prime, this abbey, 1.5km off the main Drogheda–Collon road (R168), was the Cistercians' first and most magnificent centre in Ireland. Highly evocative and well worth exploring, the ruins still reflect the site's former splendour.
Mellifont's most recognisable building and one of the country's finest examples of Cistercian architecture is the 13th-century lavabo, the monks' octagonal washing room.
Glyde Inn
VOTED IRELANDS PUB OF THE YEAR IN 2018 and a great family pub
Dating from 1770, this wonderful pub anchors Annagassan life. It has its own beer, Linn Duachaill (named for a local Viking settlement currently being excavated), which is also the name of its excellent restaurant which overlooks the beer garden, Dundalk Bay's tidal shallows and Mourne Mountains beyond.
St Peter's Roman Catholic Church
Displayed in a glittering brass-and-glass case in the north transept, the shrivelled head of St Oliver Plunkett (1629–81) is this church's main draw (the rest of the martyr was separated at his hanging in 1681). It's actually two churches in one: the first was designed by Francis Johnston in a classical style in 1791; the neo-Gothic addition was built in the late 19th century. Opening hours can vary.
Sonairte
At this inspiring, not-for-profit ecology centre, 10km southeast of Drogheda in Laytown, on an 18th-century former farm, you can wander through a walled organic garden, visit a beekeeping museum and take a biodiverse nature trail and river walk that incorporates wetlands, woodlands and grasslands. Recharge at its organic cafe or browse its home and garden shops. It hosts various courses, from home detox workshops to wild-food foraging; food and craft markets regularly set up on Sundays from 11am to 4pm.
Carlingford Oyster Festival
This rollicking four-day event toasts Carlingford's famous oysters with an oyster treasure hunt, fishing competition, music, food markets and a regatta on Carlingford Lough.
County Museum Dundalk
Different floors in this museum are dedicated to the town's early history and archaeology, and to the Norman period. One floor features the growth of industry in the area, from the 1750s to the 1960s, including the cult classic Heinkel Bubble Car. Other oddities include Oliver Cromwell's shaving mirror.
Highlanes Gallery
Set in a beautifully converted 19th-century monastery, this gallery has a permanent collection of contemporary art, along with regular temporary exhibitions.
Attached is a shop featuring high-quality Louth craftwork, and a chic cafe.