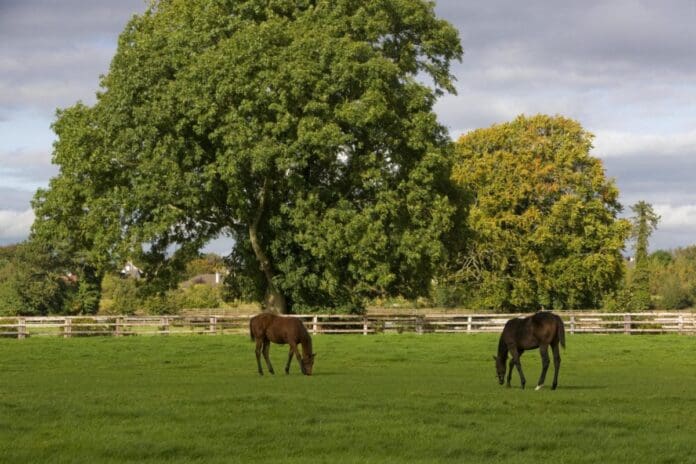 Donadea Forest Park
Donadea Forest Park is situated in northwest Kildare and comprises of approximately 243 hectares of mixed woodland. There are many different walks through the forest, including the 5km Aylmer loop, the lake walk (wheelchair accessible) and a nature trail with stops. The park is a designated National Heritage Area. There is a 9/11 Memorial at Donadea. The memorial was inspired by the memory of Sean Tallon, a young fire fighter, whose family had emigrated from Donadea. Additional facilities include public toilets with disabled access, coach parking and tea/coffee facilities.
The Irish National Stud and Gardens
The Irish National Stud and Gardens is the home of equine royalty, immaculately-bred stallions, protective mares, frolicking foals and athletic yearlings. It is the only stud farm in Ireland open to the public and offering daily tours. Within the grounds are the world-famous Japanese Gardens, the Horse Museum and St Fiachra's Garden, created to celebrate the Millennium. Visit the Japanese Gardens for a relaxing stroll—created between the years 1906 and 1910, they were laid out by Japanese craftsman Tassa Eida and his son Minoru.
Newbridge Silverware – Museum of Style Icons
Originally set up as a cutlery manufacturing company in 1934, Newbridge Silverware today offers a unique tourism experience at its Visitor Centre. With one of the world's greatest collections of authentic couture style, Hollywood glamour, music memorabilia and other artefacts, the Museum of Style Icons is a treasure that has to be seen to be believed. Highlights of the collection include one of the greatest private collections of Audrey Hepburn garments in the world, two very famous outfits worn by Princess Grace of Monaco, Marilyn Monroe paper and garments, stage worn ensembles by Michael Jackson, plus much more.From summer 2018, the Newbridge Silverware Factory will also open to tourists for the first time ever. Guests will be transported behind the scenes and immersed in the history and craft aspects of the business.
Lullymore Heritage and Discovery Park
Lullymore Heritage and Discovery Park is a family day out attraction set in the heart of Ireland's largest bog land, The Bog of Allen in Kildare. There is a great mix of fun, leisure and education activity to ensure that there is something to interest visitors of all ages. The woodland/bog land walks and theme gardens are famous for their vibrant colour throughout the summer. Also, extensive outdoor adventure play area and the forest indoor play centre, 18 hole crazy golf, a pet farm with Falabella horses and a beautiful road train make Lullymore the kind of attraction you can't miss when visiting the midlands.